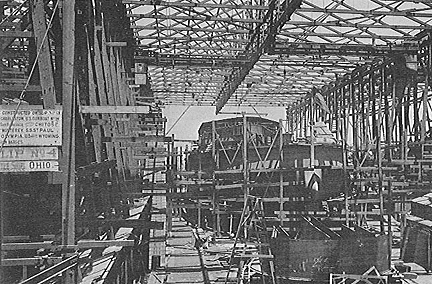 The Wyoming / Cheyenne under construction in Slip #4 30 June 1900

The second Wyoming (Monitor No. 10) was laid down on 11 April 1898 atSan Francisco, Calif., by the Union Iron Works; launched on 8 September1900; sponsored by Miss Hattie Warren, daughter of Senator Francis E. Warrenof Wyoming; and commissioned at the Mare Island Navy Yard, Vallejo, Calif.,on 8 December 1902, Comdr. V. L. Cottman in command.

After fitting out at Mare Island, Wyoming ran her trials and exercisesin San Pablo and San Francisco Bays and conducted exercises and targetpractice off the southern California coast through the summer of 1903.Before she headed south in the autumn, reaching Acapulco, Mexico, on 31October. She subsequently shifted further south, to Columbia, where a civilwar threatened American lives and interests. The monitor accordinglyarrived in Panamanian waters on 13 November and sailed up the Tuira River incompany with the protected cruiser Boston, with a company of marines underLt. S. A. M. Patterson, USMC, and Lt. C. B. Taylor, USMC, embarked, to landat "Yariza" and observe the movements of Colombian troops.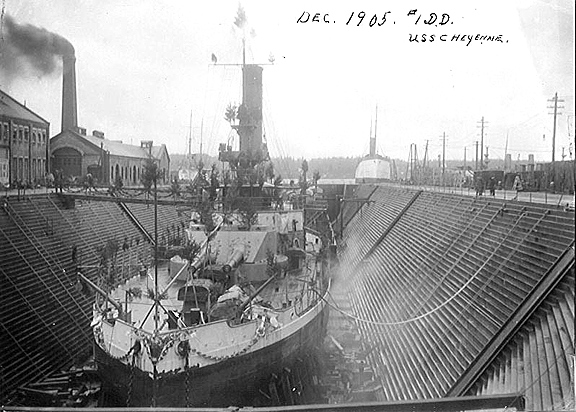 The Cheyenne in dry dock. This was taken shortly after the slant-front turret was installed.

The presence of American armed might ultimately resulted inindependence for the Panamanians. During that time, Wyoming anchored at theBay of San Miguel on 15 December. The following day, a boat with 11 marinesembarked left for the port of La Palma, under sail. While Boston departedthe scene on the 17th, Wyoming shifted to La Palma on the following day.There, Lt. Patterson, USMC, with a detachment of 25 marines, commandeeredthe steamer Tuira and took her upriver. While the marines were gone, aparty of evacuated American nationals came out to the monitor in her gig.

Meanwhile, Patterson's marines had joined the ship's landing force atthe village of Real to keep an eye on American interests there. Back at LaPalma, Wyoming continued to take on board American nationals fleeing fromthe troubled land and kept up a steady stream of supplies to her landingparty of bluejackets and marines at Real. Ultimately, when the need forthem had passed, the landing party returned to the ship on Christmas Eve. Wyoming remained in Panamanian waters into the spring of 1904 keeping afigurative eye on local conditions before she departed Panama Bay on 19April, bound for Acapulco. After remaining at that port from 27 to 29April, Wyoming visited Pichilinque, Mexico, from 3 to 9 May. Shesubsequently reached San Diego on the 14th for a nine-day stay.

For the remainder of 1904 Wyoming operated off the west coast, rangingfrom Brighton Beach and Ventura, Calif., to Bellingham, Wash., and Portland,Oreg. She attended a regatta at Astoria, Oreg., from 22 to 27 August andlater took part in ceremonies at the un-veiling of monuments" at GriffinBay, San Juan Islands, and Roche Harbor before she entered the Puget SoundNavy Yard, Bremerton, Wash., on 22 October.

Recommissioned on 8 October 1908, Comdr. John J. Knapp in command.Wyoming spent over two months at Mare Island refitting. Converted to oilfuel - the first ship to do so in the United States Navy - she underwenttests for her oil-burning installation at San Francisco, Santa Barbara, andSan Diego into March 1909.

During those tests, Wyoming was renamed Cheyenne on 1 January 1909, inorder to clear the name Wyoming for the projected Battleship No. 32. Theship consequently underwent more tests on her oil-burning equipment at SantaBarbara, San Pedro, and San Diego before she was placed in reserve at MareIsland on 8 June. She was decommissioned on 13 November of the same year.

Recommissioned, in reserve, on 11 July 1910, Lt. Comdr. C. T. Owens incommand, Cheyenne was assigned to the Washington (state) Naval Militia in1911 and operated in an "in commission, in reserve" status into 1913.Shifting to the Puget Sound Navy Yard early in February of 1913, Cheyennewas fitted out as a submarine tender over the ensuing months. Finally, on20 August 1913, Cheyenne was placed in "full commission," Lt. Kenneth Heronin command.


Another view of Cheyenne in drydock

The newly converted submarine tender operated in the Puget Sound regionuntil 11 December, when she sailed for San Francisco. In the ensuingmonths, Cheyenne tended the submarines of the 2d Submarine Division, PacificTorpedo, Flotilla at Mare Island, San Francisco, and San Pedro, into Aprilof 1914. Later that spring, when troubled conditions in Mexico threatenedAmerican lives and property, Cheyenne interrupted her submarine tendingduties twice, once in late April and once in mid-May, to embark refugees atEnsenada and San Quentin, Mexico, transporting them both times to San Diego.

Cheyenne then resumed her submarine tending operations on the west coast, continuing them into 1917. [Supplemental: In 1916 Cheyenne was operating with submarines off the coast of Northern California. On 16 December 1916 while conducting exercises with protected cruiser MILWAUKEE (C-21)and submarine H-1 - H-1 ran aground in heavy fog].

On 10 April of that year [1917], four days after the United States entered World War I - she proceeded to Port Angeles, Wash., the designated point of mobilization for the Pacific Fleet, in company with the submarines H-1 (Submarine No. 28) and H-2 (Submarine No. 29), arriving there on the 16th. Subsequently shifting to the Puget Sound Navy Yard, Cheyenne remained at that port for most of a month, taking on stores and provisions, loading ammunition, and receiving men on board to fill the vacancies in her complement. On 28 April, Cheyenne guarded N-1 (Submarine No. 35) as she ran trials off Port Townsend, Wash. On 4 May, the warship returned to Puget Sound for drydock and yard work. Completing that refit late in May, Cheyenne shifted southward to San Pedro, Calif., where she established a submarine base and training camp for personnel for submarine duty.

Cheyenne subsequently joined the Atlantic Fleet, serving as flagship andtender for Division 3, Flotilla 1, Submarine Force, Atlantic Fleet. On 17December 1918, the ship was transferred to Division 1, American PatrolDetachment. While with that force, Cheyenne lay at Tampico, Mexico,protecting American lives and property from 15 January to 9 October 1919.Proceeding north soon thereafter, the warship arrived at the PhiladelphiaNavy Yard on 23 October 1919, where she was decommissioned on 3 January1920.

While inactive at Philadelphia, the ship was classified as amiscellaneous auxiliary, IX-4, in the fleet wide designation of alphanumerichull numbers of 17 July 1920. Subsequently recommissioned at Philadelphiaon 22 September of the same year, Cheyenne was towed to Baltimore, Md., bythe tug Lykens (AT-56).
on the morning of 16 December 1916.
Based there, Cheyenne was assigned to training duty with Naval ReserveForce (USNRF) personnel of subdistrict "A," 5th Naval District, and trainedUSNRF reservists through 1925. Basing at Baltimore, she occasionallyvisited Hampton Roads during her cruises. On 21 January 1926, theminesweeper Owl (AM-2) took Cheyenne in tow and took her to Norfolk andthence to Philadelphia where she arrived on 27 January for inactivation.

Decommissioned on 1 June 1926, Cheyenne was struck from the Navy liston 25 January 1937, and her stripped-down hulk was sold for scrap on 20April 1939.