The double-turreted Monterey was the first monitor to be laid down for the new steel Navy of the 1880's. built in San Francisco for service on the Pacific Station she represented an effort to strengthen the force of armored ships in the Pacific. In 1887, when Monterey was authorized, Monadnock, then rebuilding, was the only potentially effective American armored vessel in the Pacific although Comanche was still available. One of the design features of the Civil War Casco class which added to their displacement problems reappeared in Monterey although in a much more refined and successful form. This feature was the provision of large water-ballast tanks which enabled her freeboard to be decreased by flooding prior to action. The actual cost of Monterey was $2,065,779.30. Monterey and Monadnock were the only two monitors to cross the Pacific. Both ships were sent to the Philippines to strengthen Dewey's fleet. However, they did not arrive until August of 1898, too late to participate in the Battle of Manila Bay.
The second Monterey was laid down by Union Iron Works, San Francisco, Calif., 20 December 1889; launched 28 April 1891; sponsored by Miss Kate C. Gunn; and commissioned 13 February 1893, Capt. Lewis Kempff in command.

Assigned to the Pacific Squadron for harbor defense, Monterey operated out of Mare Island Navy Yard, making numerous voyages to ports on the west coast on maneuvers and target practice during her first 5 years of naval service.

Each spring the monitor would make a voyage down the California coast or up to Washington for target practice. From April to August 1895, she made an extended voyage down the South American coast to Callao, Peru, via Acapulco, Mazatlan, and Panama. With the outbreak of the Spanish American War and Commodore George Dewey's great victory in Manila Bay 1 May 1898, Monterey was ordered to sail for the Philippines to provide the Asiatic Squadron with big gun support against possible attack by Spanish battleship Paleyo.

Though not designed for extended ocean cruising, the big monitor departed San Diego 11 June in company with collier Brutus for Manila. Sailing via Honolulu and Apra, Guam, the two ships made the 8,000-mile voyage without mishap, arriving Cavite 13 August, and Monterey remained in the Philippines supporting the occupation of Luzon into 1899. On 18 September she commenced 5 days of operations in Subic Bay with gunboats Charleston and Concord and supply ship Zafiro, helping to destroy a large gun at the head of the bay on the 25th. She remained in the Philippines until 6 April 1900 and then sailed for China, receiving new boilers at Hong Kong, and then operating from July 1900 to September 1901 as station ship at Shanghai, voyaging upriver to Nanking from 25 to 31 July 1902 with Special Commissioner T. S. Sharretts on operations along the coast of China from Chefoo to Hong Kong, also serving as station ship at Shanghai for brief periods, until returning to Cavite in the spring of 1903 for repairs. There she decommissioned 15 December 1904.

Monterey recommissioned in reserve at Olongapo Naval Station 28 September 1907 but 8 1/2 months later was placed in ordinary 7 May 1908. She sailed 11 November for Amoy, China, and operated off the China coast in protection of American interest at Foochow, Swatow, and Shanghai until returning via Hong Kong to Cavite 16 November 1913. Monterey returned to reserve at Olongapo 11 February 1913, and when World War I broke out in Europe moved to Cavite 11 August 1914. She returned to Olongapo in May 1915 and then 24 December sailed to cruise the Philippines, operating in the Manila-Cavite area on drills, recruiting, and making an island patrol as far south as Zamboanga, Mindanao, returning to Cavite 29 June 1916.

The old monitor departed Cavite 13 November 1917, was taken in tow by collier Ajax on the 15th, and proceeded by way of Guam to Pearl Harbor, arriving 19 December. Assigned as station ship for Pearl Harbor Naval Station, Monterey remained in service at the submarine base until decommissioned 27 August 1921. She was sold to A. Bercovich Co., Oakland, Calif., and towed across the Pacific for scrapping.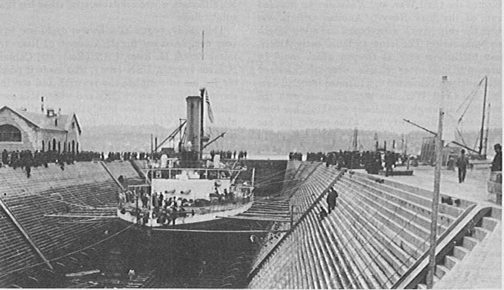 USS Monterey in dry dock, 22 April 1896 - She was the first ship to use the graving dock at what is now Puget Sound Naval shipyard, Bremerton, Wash. The ram bow and full body, characteristic of "New Navy" monitors, can be seen.
---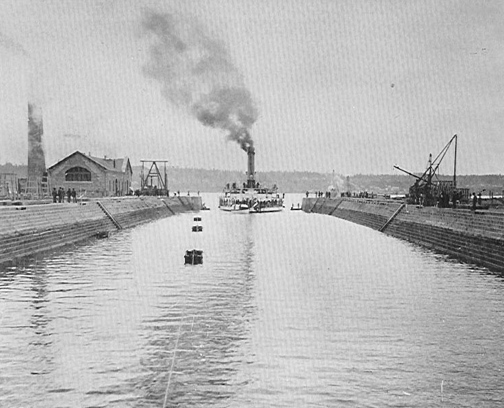 Navy coast defense monitor, USS Monterey, breaks the blue ribbon to be the first ship to enter the new dry dock (DD1 at Puget Sound Naval Shipyard). At the time, Dry dock 1 was probably the third largest in the world.
---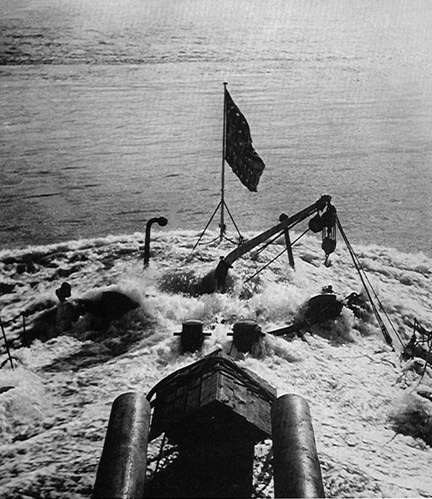 In a mild sea, monitors provided a wet ride. The Monterey, shown here at "fighting trim" in bay waters in 1904, was thoroughly obsolete.