United States Navy
Submarine Tenders
USS Bushnell
---
Displacement
(tons)
3,142
Built / Launched
? / 2/9/1915
Length
350' 6"
Built By
Seattle Construction and Dry Dock Co.
Beam
45' 8"
Commisioned
1915
Draft
12' 7"
Redesignated
(AG 32)
1940
Speed (rated)
14.0kts
Decommissioned
1946
Compliment
151
Disposition
Maritime Commission
---
The first of two US Navy ships named for David Bushnell.
David Bushnell was born in Saybrook, Conn. about 1742. A graduate of Yale University in 1775, he managed to explode gunpowder underwater - which has thought to have suggested to him under-water delivered explosives such as mines and torpedoes. In 1775 he completed a man-propelled, wooden submarine boat, on the outside of which was attached a powder magazine with clock mechanism enclosed for igniting it. Bushnell's vessel was unsuccessful in her attempts to blow up British vessels in 1776-77 - but there is no doubt that his ideas were valid - and were perfected by those who followed him in submarines. The other ship named for Bushnell is the AS 15

The first Bushnell (AS-2) was launched 9 February 1915 by Seattle Construction and Dry Dock Co., Seattle, Wash.; sponsored by Miss Esculine Warwick Bushnell, great-grandniece of David Bushnell; and commissioned 24 November 1915, Lieutenant D. F. Boyd in command. She was assigned to the Submarine Flotilla, Atlantic Fleet, as tender to "L" class submarines in January 1916 and arrived on the east coast in February. Early in 1917 she escorted submarines to the Azores and in December accompanied Submarine Division 5 to Ireland, arriving at Queenstown 27 January 1918. Bushnell acted as tender for submarines operating off Queenstown until the end of World War I. She later escorted captured German submarines to England, Canada, and the United States.

In September 1920 she assisted in salvage operations on the submarine S-5 sunk off the Delaware Capes. [Supplemental: In late 1921 Bushnell was at Coco Solo, Panama - and in January, 1922 was underway for Guantanamo Bay with four "O" class boats]. [From that time] until August 1931, cruised with various Submarine Divisions on the Atlantic coast, in the Caribbean, on the west coast, and to the Hawaiian Islands. Bushnell arrived. at San Diego 3 September 1931 and reported for duty with the Submarine Force, Pacific Fleet, with whom she operated until 1937. She towed the frigate Constitution from San Diego to the Canal Zone during March and April 1934 and in February 1935 assisted in the search for survivors of the dirigible Macon which crashed off San Diego.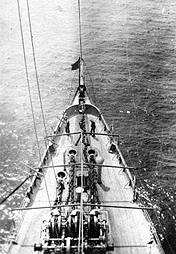 In December 1937 she was transferred to duty with the Hydrographic Survey and carried out her operations on the coasts of Colombia, Venezuela, Trinidad, British Guiana, and Samoa until September 1941.

On 25 July 1940 her designation was changed to AG-32 and on 23 August she was renamed Sumner. Sumner sailed from Norfolk 20 October 1941; joined the Base Force, Pacific Fleet, at San Diego; and arrived 25 November at the Submarine Base, Pearl Harbor. On 7 December 1941 Sumner was moored at the Sub marine Base, Pearl Harbor, and took an active part in the defense of the Islands against the Japanese attack. After the attack she assisted the stricken ships in the area. The Sumner was very active through WWII winning three battle stars for her service. She was decommissioned in 1946, and transferred to the Maritime Commission.

History from the Dictionary of American Fighting Ships.
Looking over the fo'c's'le from the bridge...
---
AS 3 USS Holland

Table of Ships

Go to TenderTale Main Page

© 1997, 2006 Common Cents Computers