United States Navy
Submarine Tenders
USS Hunley AS 31
USS Hunley AS 31
---
Displacement
(tons Laden)
19,000
Built / Launched
? / 9/28/1961
Length
599' 0"
Built By
Newport News Shipbuilding
& Dry Dock Co.,
Newport News, Va.
Beam
83' 0"
Class
Hunley
Draft
23' 4"
Commissioned
1962
Speed (rated)
18.0kts
Decommissioned
1994
Compliment
1,190
Disposition
Scrapped 2007

USS Hunley Patch
---
USS Hunley (AS-31) Commanding Officers

| | |
| --- | --- |
| Rank And Name | Dates |
| Capt. D. N. Syverson, USN | Jun 62 - Nov 63 |
| Capt. R. G. Black, USN | Nov 63 - Sep 65 |
| Capt. J. H. Heald, USN | Sep 65 - Oct 66 |
| Capt. A. H. Thomas, USN | Oct 66 - Jun 68 |
| Capt. S. G. Anders, USN | Jun 68 - Jul 70 |
| Capt. R. A. Frost, USN | Jul 70 - Mar 72 |
| Capt. H. S. Clay, USN | Mar 72 - Jun 74 |
| Capt. W. A. Williams, USN | Jun 74 - Jan 75 |
| Capt. L. B. Hebbard, Jr., USN | Jan 75 - Oct 76 |
| Capt. H. A. Glovier, USN | Oct 76 - Feb 79 |
| Capt. R. F. Bacon, USN | Feb 79 - Jun 80 |
| Capt. R. G. Loewenthal, USN | Jun 80 - Aug 82 |
| Capt. T. J. Camilleri, USN | Aug 82 - Jul 84 |
| Capt. W. J. Hastie, USN | Jul 84 - Aug 87 |
| Capt. C. D. Bean, USN | Aug 87 - Aug 89 |
| Capt. J. S. Almon, USN | Aug 89 - Jul 91 |
| Capt. T. R. Kenk, USN | Jul 91 - Jun 93 |
| Capt. W. Helfen, USN | Jun 93 - Sep 94 |
Horace Lawson Hunley was born 29 December 1823, in Sumner County, Tenn. He early moved to New Orleans where he practiced law and represented Orleans Parish in the Louisiana State Legislature. On outbreak of the Civil War, he joined James R. McClintock and Baxter Watson in sponsoring the building of Confederate privateer submarine Pioneer, later scuttled to prevent capture when New Orleans fell. The three men built a second submarine at Mobile, Ala., but it sank in Mobile Bay. Hunley then provided the entire means for building a third submarine named H. L. Hunley in his honor. This manual powered submarine had successful trials in Mobile Bay, then was shipped to General Beauregard for the defense of Charleston in August 1863. When early submarine operations at Charleston failed to produce a sinking, Hunley provided a crew headed by Lt. George A. Dixon, CSA. But Hunley took charge in the absence of Dixon 15 October 1863, and perished with his entire crew of seven when the submarine failed to surface from a dive under CSS Indian Chief. Dixon raised and refitted CSS H. L. Hunley, armed her with a "Lee Spar Torpedo" and sank steam sloop-of-war Housatonic off Charleston Harbor 17 February 1864. Though submarine and crew perished in this mission, H. L. Hunley was the first submarine to sink a warship In combat, casting a long shadow into the 20th century.
Hunley (AS-31) was launched 28 September 1961 by the Newport News Shipbuilding & Dry Dock Co., Newport News, Va.; sponsored by Mrs. J. Palmer Gaillard, wife of the Mayor of Charleston, S.C.; and commissioned 16 June 1962, Captain Douglas N. Syverson, in command. Hunley has the distinction of being the first ship designed and built up from the keel to service and maintain the U.S. Navy's nuclear powered Ballistic Missile Submarine Fleet. She has complete facilities for servicing the complex Polaris Weapons Systems and for accomplishing any submarine repair other than a major shipyard overhaul. Hunley sailed 25 July 1962 for shakedown training off Cuba. This completed 6 September, she visited several Gulf and Atlantic ports, including Mobile and Charleston. She returned north to Norfolk 28 September for post shakedown alterations until 8 December. She next paid a 3-day visit to New York City to host the Naval Reserve Officers Seminar "New Ships for the Modern Navy."

She stoodout of the Norfolk Operating Base 29 December 1962 for Holy Loch, Scotland, arriving 9 January 1963. Almost immediately she began taking the load off Proteus, whom she officially relieved 15 March 1963 as tender to Submarine Squadron 14 at Holy Loch, Scotland. This duty continued until 12 April 1964 when Hunley sailed for conversion that provided capability of handling the new A3 Polaris Missile. She resumed her duties at Holy Loch 15 June 1964.

A Polaris milestone was reached in December 1965 when Thomas A. Edison came alongside to commence the 100th refit of an SSBN by Hunley. This signified that one hundred SSBN submarines had gone out on time from Hunley and not one of them had to make an early return from patrol. This represents some 200 months of Polaris on station or 16 1/2 years of submerged strategic deterrent since Hunley's arrival in Holy Loch 9 January 1963. Among impressive jobs carried out by Hunley is welding on SSBN pressure hulls or reactor plant fluid systems. Once unheard of in submarine tending, these jobs are only a few of many tackled with confidence and skill by Hunley. These and many other alterations are carried out as a matter of routine to keep SSBN's on the line with the newest possible technical improvements and safety devices. For example, an auxiliary "Sub-Safe" package was accomplished on Theodore Roosevelt in which over 40 fittings and more than 100 feet of new piping in a major system were installed. A battery replacement for Ethan Allen was completed In only 11 days. Hunley meets demands from making water-borne propeller replacements to encapsulation of AC induction motors; delicate repairs to navigation and fire control, and many other varied tasks to insure that each SSBN has the finest of care on each refit. The resolution, can-do spirit, and persevering fidelity of her officers and men give firm allegiance to Hunley's motto: "We Serve to Preserve Peace."

Hunley returned to the United States late In 1966 and in 1967 operated out of Charleston, S.C., laboring to keep sharp the edge of the Navy's under water nuclear deterrent.

History from the Dictionary of American Fighting Ships & Hunely Decommissioning booklet.

In 1967 Hunley underwent an overhaul which included the replacement of its original aft-mounted 32 ton capacity "Hammer-head" crane with two modern cranes installed amidship - each having 30 tons capacity. These cranes - besides being able to be used simultaneously - are much more flexible in their use - allowing Hunley to be much more efficient.

In January, 1968 Hunley relieved Proteus at Site III (Guam) while Proteus underwent repairs. In June 1968 Hunley departed Guam and transited to Charleston where she relieved the Holland and assumed the duties of tending SUBRON 18.

On July 26, 1971 USS Simon Lake relieved Hunley at site IV; Hunley transited to the west coast for a short stay. August 16, 1971 Hunley departed arriving 27 September at Guam and began transferring men and materials to relieve Proteus - to accomplish a state-side overhaul.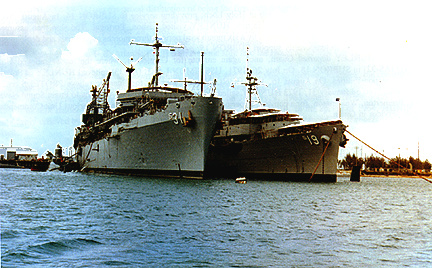 One of a approximately a dozen exchanges between the two -
this one in 1980 at Site III Guam.
Turn-over was completed on 27 October, 1971 and Hunley relieved Proteus (AS-19) at Apra Harbor, Guam. Hunley serviced the boats of SUBRON 15 until January, 1973, when relieved by Proteus (AS-19) returning from overhaul. Hunley departed Guam 31 January, 1973 making port visit to Sydney, Australia on the way to Puget Sound Naval Shipyard, Bremmerton, Washington, for a conversion period. Hunley was awarded the Meritorious Unit Commendation for its serviced in Guam. The conversion included modifications to accommodate and service the new and larger Poseiden missiles.
In 1973 through early 1974 - Hunley underwent an overhaul and conversion at Puget Sound Naval Shipyard - in which she was modified so that she could carry and service the new and larger C3 Poseiden missiles.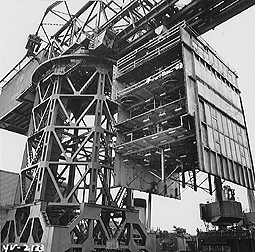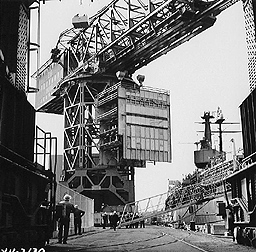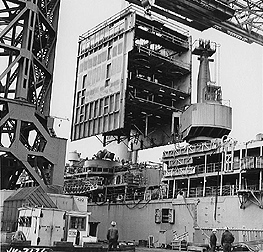 Huge yard crane moves the pre-fabricated missile compartment into Hunley. Poseidon missiles are a lot larger - so the entire missile magazine was replaced as a unit.
---
The conversion completed in early 1974, she made port visits at San Francisco, San Diego, Acapulco, transited the Panama Canal then port visits to Guantanomo,Cuba, Ft. Lauderdale, Cocoa Beach, Florida. Hunley arrived at Goose Creek, Charleston assuming the duties as Site IV tender on 27 June, 1974.
USS Hunley in Holy Loch Scotland just after relieving Proteus in 1963.
Here, her hammer-head crane is in use transferring a missile with the Edison (SSBN 610)
---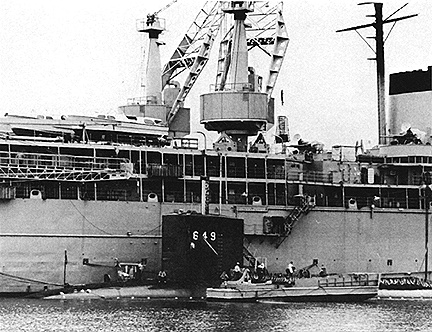 USS Hunley in 1967
The 32 ton capacity Hammer-head crane has been replaced with
two modern cranes amidship - each having 30 tons (eventually increased to 47.5 tons) capacity.
Along side is the USS Sunfish (SSN 649).
---
In May 1978 Hunley traveled to Boston for a one month dry docking, returning to Charleston in June. While there - the Hunley was "reverse converted" so that she was also fully able to support the A-3 missiles as well as the C-3 missiles - in preparation for deployment to Guam. Hunley returned to Charleston in June - earning the coveted NEY Award for the ship having the best Enlisted Dining Facility in its category. Hunley departed Charleston in August, 1978 for Guam with port visits to South America, Hawaii; and trasnsiting the straits of Magellan - following the same route as Magellan centuries earlier

Hunley relieved Proteus at Site III in November 1978 and over the term of next 19 months earned many awards including: the Battle Efficiency "E", the Engineering "E", the Golden Anchor Award, the Meritorious Unit Commendation and the Navy Environmental Protection Award.

Hunley got under way in June 1980 making port visits at Peal Harbor and Acapulco; transited the Panama Canal, additional port visit to Fort Lauderdale on its way to Charleston Naval Shipyard. There she underwent extensive dry dock servicing and a complete renovation of the crew living spaces. A 30 deployment of refresher training and an Operational Readiness Inspection left the Hunley ready to assume the duties once again at Charleston - where she relieved Canopus (AS 34) in September of 1981 where she assumed the duty as tender Subron 18.

In late 1981 Hunley was relieved at site IV - and moved to the Charleston Naval Base for some preparation work for an extensive deployment across the Atlantic. In January 1982 Hunley relieved Holland (AS 32) and assumed the duties of tending SUBRON 14 at Site I - Holy Loch. Hunley was once again the recipient of many awards - including the Silver Anchor for retention of personnel.

In June 1987 Hunley was relieved at Site I by Simon Lake (AS 33), and she got underway for Norfolk - making a port visit at Halifax, Nova Scotia along the way. Once arriving at Norfolk, Hunley was assigned the duty of tending the fast attack submarines of Subron Six. Hunley temporarily relieved Frank Cable (AS-40) in August 1989 tending Subron Four fast attack submarines at Charleston. In late September 1989, Hunley sailed east to avoid the wrath of Hurricane Hugo, returning as soon as possible to port to assist in the cleanup and relief efforts. November 1989 Hunley returned to its homeport of Norfolk tending the submarines of Squadron Eight.


23 May 1990 Hunley made a port visit to Annapolis, Maryland; then spending the next year continuing to service the submarines of Squadron Eight. During that time - Hunley was awarded numerous Type Commander awards the Battle Efficiency Award Competition including the Communication Green "C"' and Deck White "D".

Hunley was temporarily assigned to tend submarines from both Subron 6 and Subron 8 between July 1991 through January 1992 while L. Y. Spear sailed to the Persian Gulf. During this time she also completed two port visits to Port Canaveral, a weapons off-load in Yorktown, Virginia; and completed several training operations. An additional Communications Green "C"; and the Medical Yellow "M" were awarded during 1991; and earning another NEY award in 1992. 17 August 1992 Hunley departed for a port visit to Halifax, Nova Scotia.

Immediately upon return to Norfolk on 28 August 1992, Hunley was ordered to Joint Task Force 28 in Miami, Florida to assist in Hurricane Andrew Disaster Relief effort. Before deploying, Hunley onloaded more than 310 tons of cargo, and was on its way in less than six hours. Before leaving Miami for Norfolk 18 September 1992, Hunley was directly responsible for refurbishing and reopening 16 schools and one orphanage, and processing over 5,000 Federal Emergency Act Claims.

In April 1993 Hunley sailed to Annapolis in support of USS Minneapolis St. Paul (SSN 708) midshipmen indoctrination visits. Upon departing Annapolis, Hunley returned to Miami for a special thank you event hosted by the Greater Miami Chamber of Commerce. The ship was recognized by the Points of Light Foundation and the crew awarded Distinguished Service Awards by the Governor of Florida. Additionally - the Nay awarded Hunley and its crew the Humanitarian Service Medal for superb efforts in providing disaster relief in South Florida.

August 1993 saw the visit of Secretary of the Navy John Dalton to Hunley as part of his familiarization tour upon assuming his new duties. The Commander in Chief, U. S. Atlantic Fleet, Admiral Mauz, accompanied Secretary Dalton.

In November 1993 Hunley was again underway - this time for a port visit to Cape Canaveral. The Commander in Chief, United States Atlantic Fleet recognized Hunley with the Golden Anchor Award for excellence in retention and personnel programs management during the fiscal year 1993. Also during 1993 - Hunley was once again the recipient of the NEY Award, making it two consecutive years.

March of 1994 Hunley dropped in to Key West for a visit - her last liberty port of call.

Hunley's last tending assignment was during the period 1992 - 1994 tending the units of Subron Eight - the largest submarine squadron in the world, providing repair and logistics support to the 688 Class, Fast Attack Submarines. Hunley was finally relieved the last time in May 1994.
Hunley at Key West 1994
As a fitting end to Hunley's distinguished service, the Secretary of the Navy presented the Meritorious Unit Commendation to Hunley "For meritorious service in connection with highly successful submarine tender operations in Norfolk, Virginia from 1 August 1992 to 30 September 1994."

Even while Hunley was "officially" undergoing inactivation between May and September - Hunley was still able to provide valuable services from time to time.

15 September 1994 Hunley mustered for the final time - at 10:00 the Decommissioning Order was read; the watch secured, the Ensign and Commissioning Pennant hauled and presented, the final ship's deck log entry made and signed, and the crew departed.

Hunley rested on the gentle backwaters of the James River at the National Defense Reserve Fleet facility at Ft. Eustis, Virginia, until she was moved to Southern Scrap Materials Company, New Orleans, Louisiana in early 2007. "Recycling" was completed in early 2011.
Hunley at Norfolk
---
AS 32 USS Holland

Table of Ships

Go to TenderTale Main Page

© 1997, 2006, 2011 Common Cents Computers