United States Navy
Submarine Tenders
USS Frank Cable AS 40
USS Frank Cable AS 40 in 1993
Displacement
(tons Laden)
22,650
Built / Launched
? / 1/14/1978
Length
645' 8"
Built By
Lockheed Shipbuilding,
Seatle, Wa.
Beam
85' 0"
Class
Emory S. Land
Draft
25' 0"
Commisioned
2/5/1980
Speed (rated)
18.0kts
Compliment
1,099

USS Frank Cable Patch

Go directly to Cable's Page 2
---
Named in honor of Mr. Frank Cable, a pioneer in submarine engineering and development. Mr. Cable's first introduction to submarines was shortly after the turn of the century when he assisted with electrical work on the submarine HOLLAND after it accidentally sank pierside. Shortly thereafter, Mr. Cable found himself as engineer-in-charge and trial captain for HOLLAND. Many of his ideas had to be incorporated into HOLLAND before the Navy accepted it as its first successful submarine. Mr. Cable's other accomplishments include helping train the Navy's first submarine crews, and participating in the design and construction of the "A," "R" and "S" classes of submarines. He also organized the New London Ship and Engine Company which built the first marine diesel engine in the United States. His company was later incorporated into the Electric Boat Company, now a subsidiary of General Dynamics. He remained active with the company until his death in 1945 at age 82.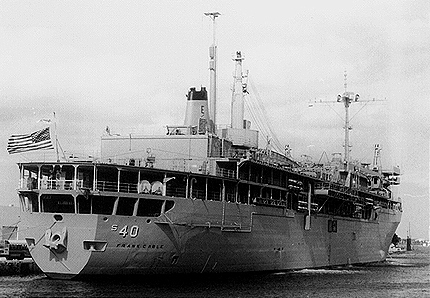 Another view of the USS Frank Cable AS 40 in 1993

USS FRANK CABLE (AS 40) was built by Lockheed Shipbuilding and Construction Company, Seattle, WA. The ship was christened on January 14, 1978 by Mrs. Rose A. Michaelis, wife of Admiral F. H. Michaelis,then Chief of Naval Material. FRANK CABLE was officially commissioned a ship of the United States Navy on February 5, 1980.

FRANK CABLE is the second of three ships of the Emory S. Land class, providing mobile support to surface ships and submarines. FRANK CABLE was purpose designed to tend the nuclear-powered SSN 668 LOS ANGELES class attack submarines. From it commissioning in 1980 until 1996 FRANK CABLE tended units of Submarine Squadron FOUR, which included ten SSN 637 class nuclear attack submarines, one submarine rescue vessel, and a torpedo recovery vessel; and Submarine Squadron EIGHTEEN which included SSBN 640 class fleet ballistic missile submarines. With the departure of both subron four and Subron eighteen, tending activities came to an end at Charleston, South Carolina, and FRANK CABLE started the process of being de-commissioned. However - with the heightened support needs in the western Pacific, it was decided to reactivate and refit FRANK CABLE to replace the aging USS HOLLAND as Commander Seventh Fleet's mobile repair and support ship. As such - FRANK CABLE became the only U.S. tender covering all of the Western Pacific - not only tending submarines, but surface ships as well. Leaving her home port of Guam often, USS FRANK CABLE has made port / support calls in Brisbane, Australia; Hong Kong; Singapore; Kuala Lumpur, Malaysia; Vladivvostk, Russia; Subic Bay, Phillipines and Yokosuka, Japan.

In 1997, the ship was heavily involved with the rescue and recovery efforts following the Korean Airline Flight 801 crash on Guam, and also in the recovery and clean-up efforts following Super Typhoon Paka. FRANK CABLE received a Humanitarian Service Medal for support provided in recovery efforts on Guam following Super Typhoon Pongsona in 2002.

The ship contains 53 specialized shops for surface ship and submarine repair support as well as many services such as laundry, disbursing services, repair parts, medical and dental facilities, legal counseling, postal services, barber shops and a ship's store.

Since 1987, FRANK CABLE has earned the Meritorious Unit Commendation twice, four Battle Efficiency "E's" and numerous department awards including three Repair "R's , three Engineering "E's", two Supply "E's", three CNO Safety "S's", Communications "C", Deck Seamanship 'D", Weapons "W', and the 1994 Atlantic Fleet Athletic Excellence Award. The ship has also been commended for its community involvement in Guam through programs such as adopt-a-school.

Today, USS FRANK CABLE continues to be the only U. S. Navy Tender - Submarine or otherwise -- deployed overseas.
USS Frank Cable (AS 40) departs Pearl Harbor following a port visit.
U.S. Navy photo by Photographer's Mate 3rd Class Ian W. Anderson
(050425-N-8937A-018 Pearl Harbor, Hawaii, April 25, 2005 RELEASED)
---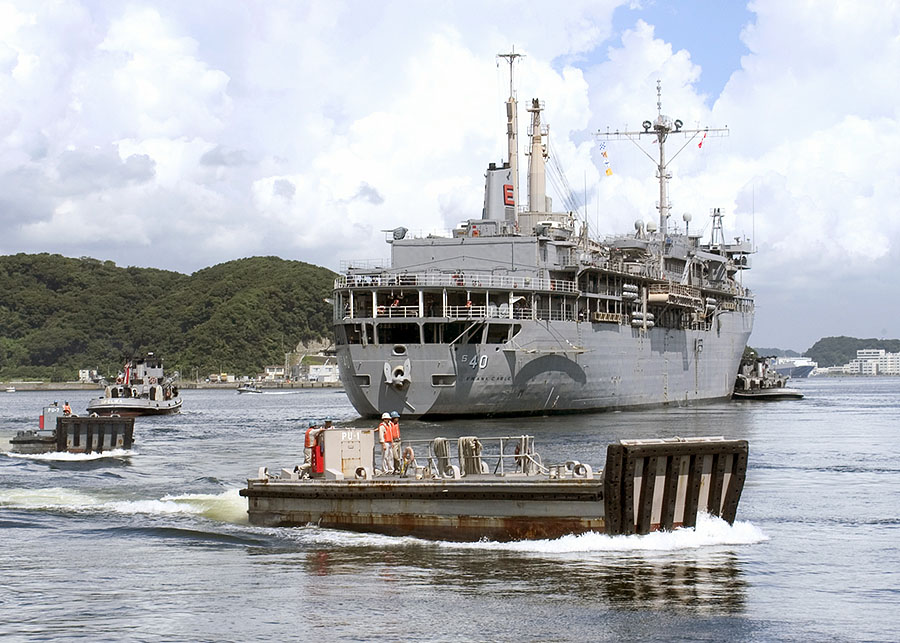 Pusher boats pull back into port as tugboats escort the submarine tender USS Frank Cable (AS 40)
as it departs Commander Fleet Activities Yokosuka, Japan after a routine port visit.
U.S. Navy photo by Mass Communication Specialist 1st Class Paul J. Phelps
(060814-N-2716P-065 Yokosuka, Japan (Aug. 14, 2006) - RELEASED)
---
USS Frank Cable is moved across Apra Harbor to its new temporary home as the crew prepares to begin a 4-month Planned Maintenance Availability. The scheduled maintenance on Frank Cable addresses normal wear and tear and will help keep the 28-year old ship in tip-top shape.
U.S. Navy photo by Mass Communication 1st Class Jeremy Johnson
(070105-N-3228J-034 Apra Harbor, Guam , Jan. 5, 2007 - RELEASED)
---
USS Frank Cable (AS 40) Deck Department personnel and a Guam Naval Shipyard worker watch as the starboard anchor and chain are removed for a (once every)12-year Preventative Maintenance Service (PMS) project. The anchor removal will allow much-needed preservation on the anchor, anchor chain and anchor locker.


U.S. Navy photo by Mass Communication Specialist 2nd Class Stefanie Broughton
(070122-N-5621B-078 Apra Harbor, Guam (Jan. 22, 2007) – RELEASED)

---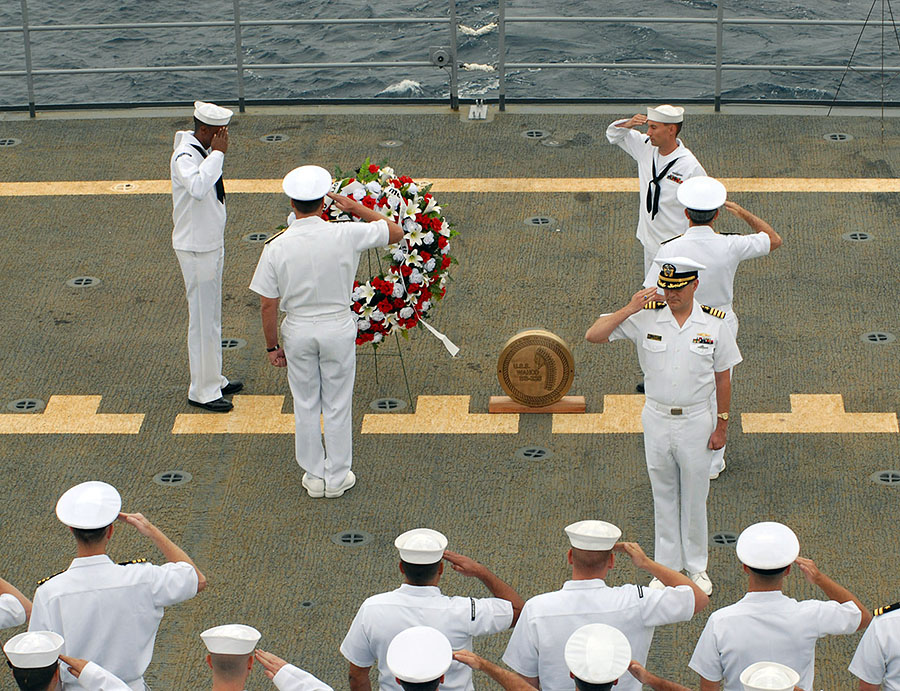 Sailors aboard submarine tender USS Frank Cable (AS 40) write the final chapter of the legendary USS Wahoo (SS 238) during a wreath laying ceremony in the La Perouse Strait, off the coast of northern Japan. The wreckage of the Wahoo, the ill-fated submarine that sunk in October 1943 due to enemy action, was discovered in June of 2006 by a Russian diving team.


U.S. Navy photo by Mass Communication Specialist 2nd Class Kory Kepner
(070708-N-7631K-215 LA PEROUSE STRAIT (July 8, 2007) –RELEASED)
---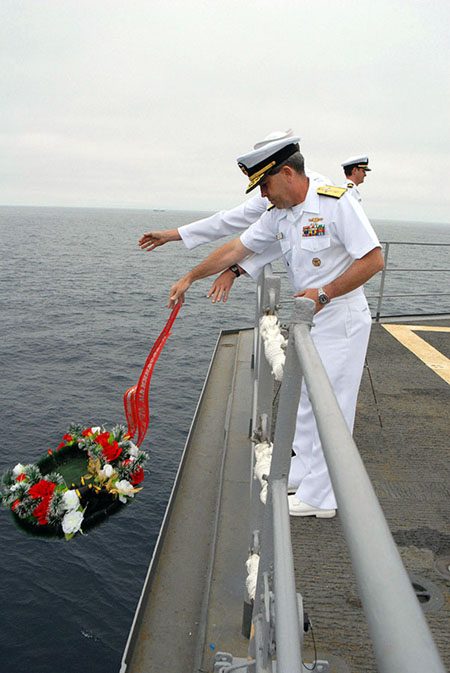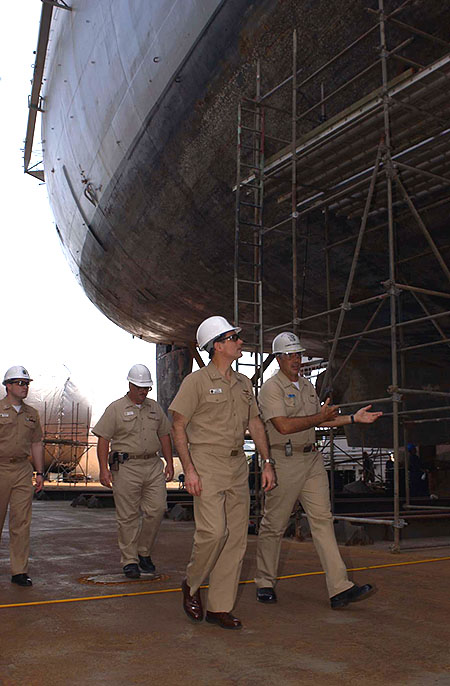 Rear Adm. Douglas McAneny, Commander Submarine Squadron 7, helps lay a wreath into the ocean at La Perouse Strait in remembrance of the Sailors aboard USS Wahoo (SS 238) from aboard USS Frank Cable. The submarine sunk in October 1943 and was found in June 2006 by a Russian diving team.
U.S. Navy photo by Mass Communication Specialist 2nd Class Stefanie Broughton
(070708-N-5621B-017 La Perouse Strait, July 8, 2007 - RELEASED)
Commander, Submarine Group Seven, Rear Adm. John Donnelly, center, and USS Frank Cable (AS 40) commanding officer, Capt. Paul Bushong, right, inspect the underside of the L.Y. Spear-class submarine tender in dry dock. Rear Adm. Donnelly paid a visit to evaluate progress on the ship during its Dry-Dock Phased Maintenance Availability (DPMA).
U.S. Navy photo by Photographer's Mate 1st Class Jason Carter.
(040205-N-9472C-001 Guam, Feb. 5, 2004 – RELEASED)
---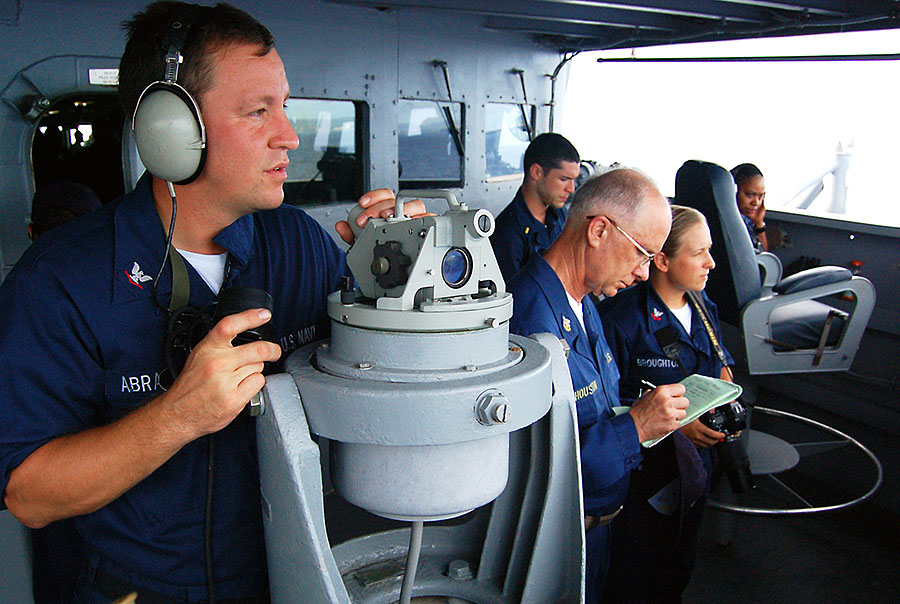 Three USS Frank Cable (AS 40) crew members compile photographs of land navigation aids on the Pacific island of Saipan as the ship approaches the island. Frank Cable is in Saipan as part of their Friends and Family Cruise. The transit to Saipan from the ships homeport of Guam takes less than a day, giving the ship's guests a chance to see up close how the Navy operates at sea.


U.S. Navy photo by Journalist 1st Class Jeremy Johnson
(060623-N-3228J-302 Pacific Ocean, June 23, 2006 - RELEASED)

---
USS Frank Cable (AS 40) tends deployed submarines USS Honolulu (SSN 718) and USS LaJolla (SSN 701) while anchored in Hong Kong Harbor. The tender's presence made it possible for the two submarines to make a port visit to the Asian metropolis as United States submarines cannot moor to the mainland. This is one of the last Western Pacific port visits Honolulu will make before returning to Bremerton, Wash., to begin decommissioning.


U.S. Navy photo by Mass Communication Specialist 1st Class Jeremy Johnson
(061007-N-3228J-002 Hong Kong, Oct. 7, 2006) - RELEASED)

---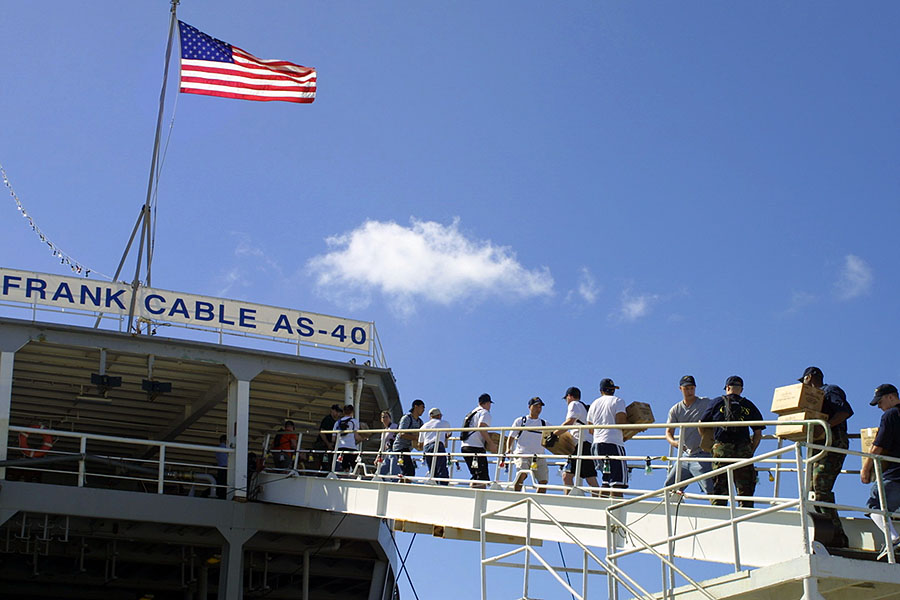 Volunteers from various CNFJ commands load stores aboard the auxiliary submarine tender USS Frank Cable (AS 40) during "Operation Save the Holidays," a holiday meal food drive, prepared for Sailors and their families stationed at Naval facilities in Guam, who are still recovering from the destruction of the Dec. 8 Super Typhoon Pongsona. The volunteers prepared more than 3,000 pounds of turkey and 1,000 pounds of beef and ham, including traditional holiday meal side dishes for shipping.


U.S. Navy photo by Chief Journalist M. A. Raney.
(021222-N-7078R-004 Commander, Naval Forces Japan (CNFJ), Dec. 22, 2002 -- RELEASED)
---

Go to Cable's Page 2

Go to Cable's Official Navy Site
(off site from TenderTale, you'll have to use your "Back" button to get back here)

AS 41 USS McKee

Table of Ships

Go to TenderTale Main Page

© 1997, 2005 & 2009 Common Cents Computers