Deployments - Pearl Harbor
---
---
There were really three attempts at establishing a submarine base at Hawaii. The first was between 1914 and 1915 during which time four "F" class submarines operated from the old Naval Stations Pier 5 in Honolulu. However - when F-4 sank off Honolulu - the other three submarines were towed back to the west coast.
---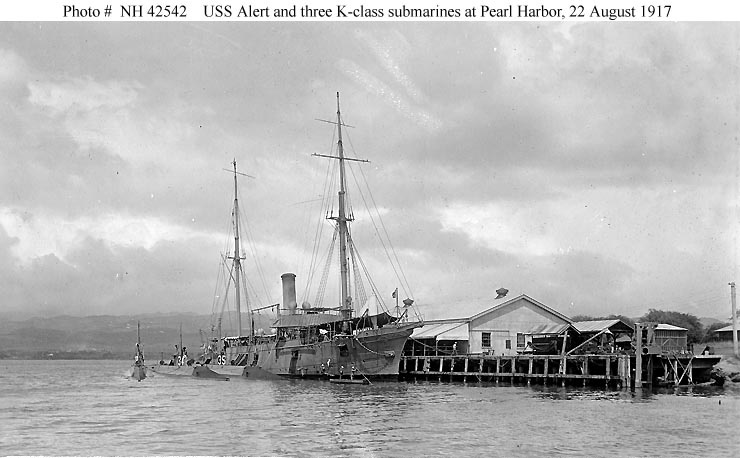 USS Alert. (AS 4) moored at the wharf at Kuahua Island on 22 August 1917. K-3 (Submarine No. 34) and K-4 (Submarine No. 35) are identifiable alongside; the unidentified "boat" is probably either K-7 (Submarine No. 38) or K-8 (Submarine No. 39).
In 1915 USS Alert (AS 4) was deployed to Hawaii with four K class submairines (K3, K4, K7 and K8) - which operated in the local waters until approximately 31 October 1917. When the War in Europe broke out - the Navy decided to pull it's assets close to home - so Alert and the four K class submarines in her charge were ordered back to the West Coast. As nothing permanent had been built - when the tender weighed anchor- the "submarine base" went with it.
Finally in 1919 submarine Division Fourteen was formed - and ordered deployed to Hawaii. The first six submarines R-15 to R-20 arrived 25 June and when they arrived - they found like so many other submariners before them - they were left pretty much fending for themselves. The "facilities" they were "given" consisted of a single finger pier in an area of Pearl Harbor that was isolated, covered with cactus plants and algaroba trees and little else - save one ship - USS Monterey - which had been towed to Pearl Harbor from Cavite by the Collier Ajax two years prior.For the time being - Monterey became the division's tender. In December - the "assigned" tender for the division- USS Chicago - finally arrived with orders to extablish a permanent base - and aboard was the man to accomplish that job - Lt. Commander Nimitz.

To their credit - the crews of R15 - R20 had already done a great deal of work in clearing the waterfront and preparing the area for use. Concrete pads were poured, and some temporary buildings raised - made of old aviation cantonmnet buildings that were World War I scrap. Other structures were just tents pitched to provide some shelter from the elements. Within two month's of Nimits ariival - an administration "building", mess hall, optical, battery, gyro compass, electrical, carpenter, and machine shops - while temporary - were all serviceable. A barge was obtained, fitted out with walls and a roof and used as a warehouse.

Chicago wasn't left out of the "base building project" either. anchored semi-permanently - she was used to house submarine personnel - as well as officers from the "base". Her decks were housed over to provide additional capacity - and a causeway built to provide better access to and from shore. It's not uncommon for a tender - such as USS ORION (AS 18) - bing referred to as "Building 18" - so it's possible that Chicago being treated much as a building - may have been the genesis of that "Tradtiton". Since there are no records of such - that will just have to remain speculation. However - it is not speculation as to just how important Chicago was to the establishment of Submarine Base Pearl Harbor.

On 17 April 1921 Rainbow (AS 7) arrived with the boats of Division 12. On 27 August, 1921 with the two other tenders at Pearl Harbor (Chicago and Rainbow) Monterey became the first of the long obsolete monitors to be decommissioned and sold for scrap. Rainbow - along with it's submarines of Division 12 - departed Pearl Harbor on 12 November 1921. USS Seagull (AM-30) was ordered deployed as the permanent Submarine Tender at Pearl Harbor in June 1922 - a primary deployment she filled for some 23+ years.
Ten more "R" class boats - R-1 - R-10 arrived in 1923 - by which time many permanent buildings were well along under construction - and the facility began taking shape - some of which still exists today.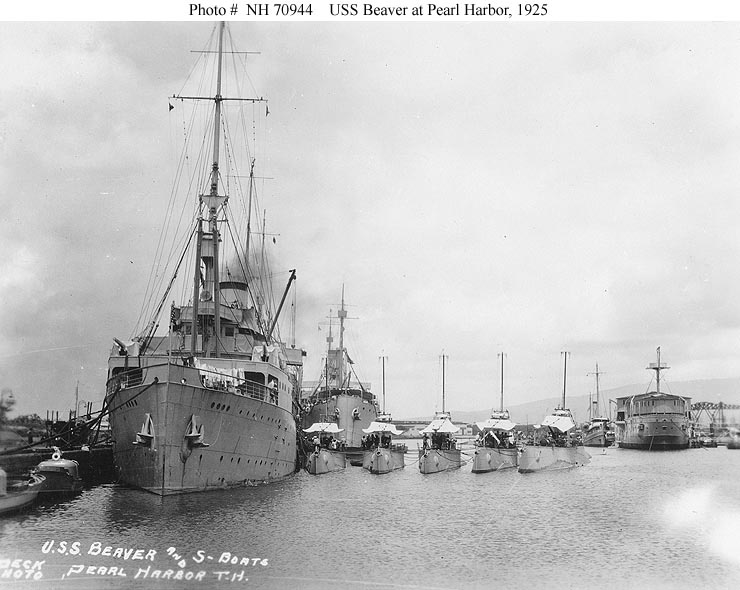 USS Beaver (AS 5) at Pearl Harbor in 1925, with five "S-Type" submarines alongside. The old protected cruiser Chicago is in the right background. The construction on her decks to provide additional spaces for berthing, etc. can be clearly seen.
---
As the 1920s passed into the 1930s - many of the temporary buildings were replaced with modern facilities purpose built for specific use. Two more finger piers were also built. In 1928, the largest building of the era - the "U" shaped barracks building was completed - and had sufficient capacity such that no additional space was needed until just before World War II. By 1933, berths 10 to 14 on a long quay wall had been completed and a thirty ton crane had been constructed on the outboard end of finger pier number four. Other facilities completed at the time were the submarine rescue and training tank, the enlisted men's pool, the theater (built entirely by submarine base personnel), and the main repair buildings. The Administration Building, housing the base torpedo shop in the main deck of one wing and the Supply Department on both decks of the other wing had also been completed. Above the torpedo shop, was located the Base Commanding Officer's and Executive officer's offices. Shortly after the completion of this building, an officer's quarters was built close to the Administration Building. Since there was now housing and messing facilities for both officers and enlisted men, Chicago was no longer needed. During these years - Chicago had served as Division Tender (1919 - 1923); decommissioned and assigned as barracks ship to the Submarine Base (30 September 1923 - 1935); been renamed Alton (16 July 1928 - at which time she was redesignated IX-5); and finally sold May 13, 1936. She foundered while being towed accross the Padific and was lost in July 1936.

In addition to the building boom at the base - the mid 1930s through early 1940s also saw the planting of a great deal of landscaping - making the Submarine Base not only a productive environment - but a pleasant place to work and live as well.
Aerial view of the Submarine Base with the fuel farm at left, looking south on 13 October 1941. Among the 16 fuel tanks in the lower group and ten tanks in the upper group are two that have been painted to resemble buildings (topmost tank in upper group, and rightmost tank in lower group). Other tanks appear to be painted to look like terrain features. Alongside the wharf in right center are USS Niagara (PG-52) with seven or eight PT boats alongside (nearest to camera), and USS Holland (AS-3) with seven submarines alongside. About six more submarines are at the piers at the head of the Submarine Base peninsula.
---
On 30 June 1940, there were 359 enlisted men stationed at the Submarine Base with this number slowly increasing to 700 on 15 August 1941 and to 1,081 in July 1942. Rapid expansion of the base reached its peak in July 1944, when there were 6,633 enlisted men serving on the Submarine Base proper. These were the men for whom there was no glory but who, nevertheless, worked excessive hours no matter what their job in order that our submersibles might roam the Pacific in excellent fighting condition.

Fortunately for America, and conversely, unfortunately for Japan, the enemy neglected to strike at Pearl Harbor Submarine Base on 7 December 1941. Quite possibly this could have been by design since the Japs conceivably paid little attention to the comparatively small submarine force the United States had operating in the Pacific, the majority of which, incidentally, was operating in the Far East. But for whatever reason, no damage was done to the base and for this oversight the Japs were to pay dearly since it was the submarine force in the Pacific that, almost alone, carried the war into the enemy's waters in the first two years of the war.

The following is from an official summary of Submarine Base Pearl Harbor war time efforts:
As an indication of the tremendous amount of work accomplished by the Pearl Harbor base, four hundred submarines were overhauled, refitted, or repaired during the period from May 1944 until July 1945. (This should not be construed as 400 individual submarines, but rather as a certain number of subs overhauled numerous times). This meant four hundred submarines prowling the seas, destroying Japanese shipping relentlessly through the sole medium of repair and supply furnished by one base. Truly, the enemy missed a military objective by blindly overlooking the Submarine Base on the day of the "blitz".

It is not a debatable question as to which departmental function was the most important at the Submarine Base, since without one the other would have been negligible. To all go the credit for the tremendous successes achieved as the result of basing submarines at Pearl.

While the Submarine Base was active during the early years of the war - it was the last two years when Pearl Harbor really made it's mark. During a three month period ending 1 September 1944, the Commissary Department stocked $410,000 worth of provisions aboard submarines in for refits; and for the entire war, the value of provision stowed aboard operating subs totaled the tremendous sum of $3,680,296, a good reason as to why submarine personnel are the best fed fighting men in the world.

.The Disbursing officer paid $33,363,305.23 in salaries to submarine personnel in the last two and a half years of the war in 1,144 individual pay days to submarine crews. Clothing and Small Stores, another function of the Supply Department, issued $916,519 worth of clothing to submarine personnel in the last year and a half of the war. Supply was, without a doubt, a major issue of the war.

The Ordnance Department, from the outbreak of war until the cessation of hostilities, overhauled 15,644 torpedoes of which 5,185 were fired by combat submarines with 1,860 torpedoes resulting in successful hits. A remarkable record and one which can well be shared by the shore based personnel of the Pearl Harbor Submarine Base.

The Engineering and Repair Department consisting of technicians and specialists of every description commenced their work on submarines days before the boat ever berthed at the Base. For as much as a week prior to each submarine's arrival, plans were drawn up for the work to be accomplished on the boat. On the day of arrival, the submarine furnished the E&R department a complete list of "ailments" and on the following day an arrival conference between Base officers and Ships' officers was held. At this time, a detailed plan of repair action was made while, even at that moment, work crews from the various shops were ripping apart faulty equipment for overhaul and repair. In the short two week period that the submarine remained at the Base, every department observed every derangement, large or small, and made corrections and repairs as necessary or else replaced faulty equipment. Engineering was a factor of no small importance in the winning of the war because submarines, returning from patrol, ofttimes had almost unrepairable damage. In the month of September 1944 alone, the Engineering and Repair Department refitted twelve submarines and made voyage repairs to twenty-five others, a feat not only never before performed but not even dreamed of in the past.

The Medical Department achieved miracles in the treatment and prevention of ills and diseases. Upon the completion of a war patrol, each submarine crew was thoroughly examined by especially trained and unusually competent Medical, Dental and Psychiatric Officers. Should it develop that a man had an ailment, no matter how trivial, he was replaced, treated and, in most cases, restored to duty on board operating submarines. Many a story has been told of medical corpsmen on submarines who have performed such feats as appendectomies and the diagnosis of diseases like spinal meningitis while on a combat war patrol. Many of these men were trained and gathered experience at a well-equipped and efficient Dispensary of the Submarine Base at Pearl Harbor. In addition, it was the Base Medical Department's responsibility that all medicinal supplies and drugs were furnished each submarine prior to its departure on war patrol.

And there were other departments, the First Lieutenant's men worked day and night loading or unloading submarines, maintaining buildings and equipment, patrolling the base during the war's most security conscious moments, and furnishing transportation for men and equipment.

There was the Rest and Recuperation Annex to the Submarine Base, the Royal Hawaiian Hotel with its 425 rooms and housing capacity of 935 guests. When this entire space was not required by the Submarine Force, it was made available to aviation activities, small craft returning from advance bases, forward advance Marine units, and in some isolated cases, to battleships and cruisers.

Then there was the Chaplain and his assistants who offered counsel and guidance to war-weary and nerve-torn veterans of the war patrols. There was the Ship's Service Department which offered everything necessary to life and comfort from phonograph records to the latest books and novelties.

(from Submarine Commands. vol. 2 (1946): 602-612. [This manuscript, identified as United States Naval Administrative History of World War II #170-B, is located in the Navy Department Library's Rare Book Room.] )
This wartime record is indeed impressive - however - while the writer's enthusiasm is commendable - we must note that the writer fails to mention that during the war - as many as four tenders were deployed and active at Submarine Base Peal Harbor contributing to this record - and in fact - the workload was so heavy that at times tenders in transit to other deployments would spend a month or so helping to catch up on the workload (note the one month stays of Fulton (on her way to Midway), Sperry (on her way to Guam, providing refit for one submarine and voyage repairs to three others), Griffin (on her way to Fremantle) and Orion (only one submarine at Pearl on her way to Australia). It's clear that tenders made a huge contribution to the effort at Pearl Harbor.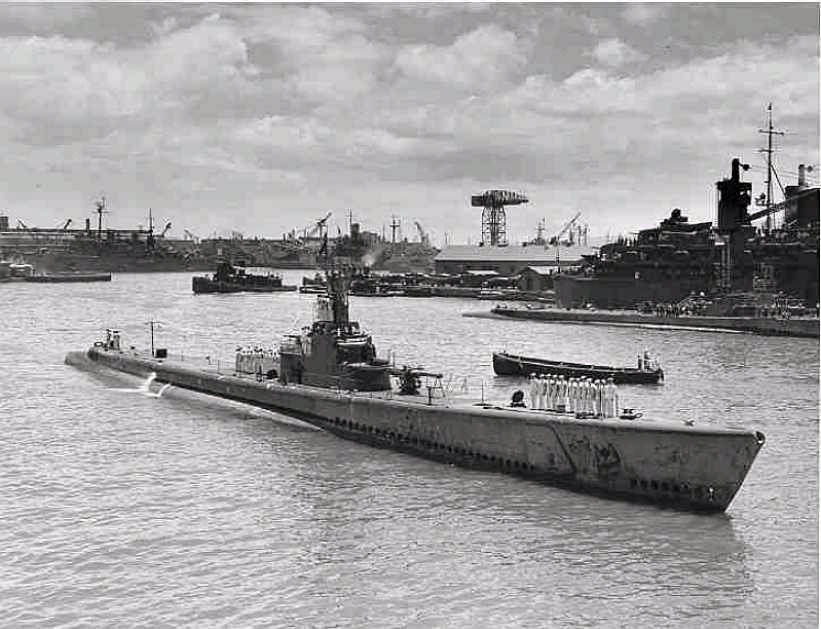 Notice the Fulton class tender in the background behind this boat returning to Pearl Harbor druing WWII
---
After the war - USS Bushnell (AS 15) was deployed as station tender at Submarine Base Pearl harbor - where she served for just over a year. Once she left - Submarine Base Pearl Harbor did not have the services of a tender save for a very short time during the height of the Korean War (USS Sperry AS 12) and a sixth months deployment by USS McKee AS 41 in January 1998 through July 1998.

---